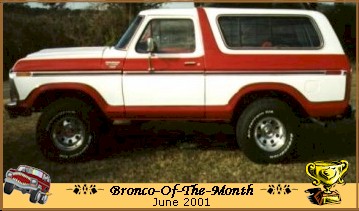 Jack Keller's 1978 Bronco Ranger XLT, Cullman, Alabama.
A true Bronco fan is someone who adores their Bronco so much that they will never, ever part with it no matter how old it gets, no matter how much work they have to put into it, or no matter what happens to it. A rare breed indeed! Never-the-less, Jack Keller is just such a person. Jack has owned this beautiful, fully-loaded Ranger XLT since 1987. He and his father have spent the last eight years working on and off to fully restore this Bronco to better-than-new condition.
The truck has around 153K miles (only about 15K since the restoration), a 400M, C6 automatic transmission, NP205, Dana 44 front and ford 9" rear end, dual Rancho RS5000's up front and singles out back, a single RS5000 steering stabilizer, BFGoodrich All-Terrain T/A's on 15x10 Eagle 589's, Energy Suspension polyurethane bushings up front and body mounts, tilt steering, cruise control, and A/C.
Jack says his truck has been a joy to drive up until a few weeks ago when someone pulled out in front of him and he paid the price. (See the last 3 thumbnails below). Jack is now in the process of searching for parts to rebuild this beauty as he is ready to get back behind the wheel.
-- Hat's off to you Jack! Good luck with your repairs and I hope you're able to get her back on the road soon.