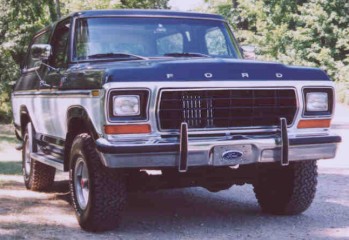 Mike Chamberlin's 1979 Bronco Ranger XLT, Westland, MI.
I purchased my Bronco in October of 2001 from a
retired firefighter. He has family in Arkansas and regularly makes trips to gather with his family, and also bring up southern trucks that he sells up here in Michigan. He always has old 70's Fords so driving by every day, well I just couldn't resist when I spotted this 1979 Bronco!!
Here are the specs; 95,000 miles, 400 / C6, NP-205, Stock Dana 44 3.50,
Stock Ford 9" 3.50, 32x10.50 BFG All-Terrain's, Locking Hood Latch, Cruise Control, Bench Seat, GT Bar and A/C.I believe the mileage is original because when I purchased it I had to remove MANY wasp nests. I mean everywhere, in the A/C duct work, under the hood, and the frame in many spots also. It seemed like it had sat down in Arkansas for quite some time.

I have tried to restore my Bronco and keep it basically stock although I did repaint it a darker midnight blue. I kept the white stripe down the side, but the hood and cap are now midnight blue. This was my first attempt at a paint job, but I think it actually turned out better than I thought it would!

So far I have replaced the following items: Radiator, fan shroud, alternator, voltage regulator,
water pump, all belts and hoses, new ford 2-bbl carb, master cylinder, brake booster, vacuum advance, front axle seals, new brakes all around, new carpeting, and most of the brake hoses and lines. I have also Herculined the rear cargo area.

All of these projects had help through many questions and posts from the members of ProjectBronco.com! Thanks to Paul for a great site! Future plans include rebuilding / replacing the engine and getting the A/C up and running.