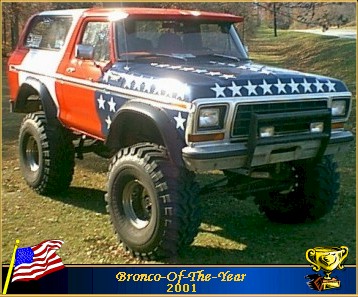 Bronco of the year for 2001

Chuck Gehrke's (Term) 1979 Bronco Custom, Salem, NJ
Those of us who are old enough to have watched the movie, "2001 Space Odyssey" when it first came out may recall thinking to themselves at the time, "Wow! I wonder if we'll even be around when the year 2001 comes?" Well, not only are we still around, but the year 2001 has almost come and gone! Hard to believe, isn't?
The year 2001 is perhaps the most memorable year in my life time, with so many landmark events happening that one's head just starts spinning when ever you think about. I believe that, with out a doubt, the most significant event of this year, and perhaps the last 50 years, was the terrorist attack on the World Trade Center in New York City that caused so much destruction and loss of life. This evet has changed all of our lives forever and has brought the American people closer together than at any time since WWII.
Given the significance of the WTC attack on America, it was easy choosing this year's Bronco-of-the-year. All I had to do was take one look at Chuck's truck and I knew, then and there, that this Bronco was the one. I have received countless Broncos this year, many of which could easily have won this honor, but I don't think anyone will disagree with me that a 7,100 lb, 4-Wheel-Drive American Flag with 44" tires wins hands-down!
While the stunning American flag paint job (which Chuck did himself!) is reason enough to make this baby Bronco-of-the-year, it's a very impressive Bronco to say the least, regardless of what color it is. It came from the factory with a 400, but now has 460 w/ a RV cam and a 850 Holley Double-Pumper flowing through full dual 2 1/4" exhaust with aluminized pipes and aluminum-cased turbo mufflers. The drive train features a rebuilt C6 w/ a shift kit, a lowered transfer case (by 4"), a custom rear drive shaft eliminating the CV joint, a D60 in the rear on rolled perches and a D44 with F250 knuckles and dual piston calipers up front. It has a Detroit Locker in the rear and a Track-Lock LSD in the front, both with 5:13 Yukon gears. The suspension is a 9" Skyjacker suspension lift and a 3" body lift, all supported by 44" Ground Hawgs on 14x16.5 Monster Wheels. The interior features '84 Mustang bucket seats, new carpet, a Sunpro Monster tach, Cobra CD w/ a 150 watt amp, and a CD player. Finally, the exterior enhancements include a Lund Visor, new window seals & weather striping, a new tailgate, new polly cab mounts, and Bushwacker cut-out fender flares.
Chuck says that you wouldn't believe the "thumbs-up" he gets from everyone no matter where he drives his Bronco. He drives it every day and takes great pride in the work he does to it, and believe me, it shows.
-- My hat is off to you. All I know is that if I saw this baby driving down the road, I'd have to pull over and pay tribute.