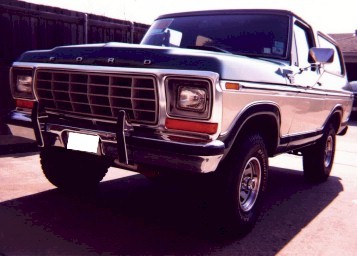 Steve Sellers 1979 Bronco Ranger XLT, Dallas, Texas.
This almost perfect Bronco is one of the best I've seen! Steve has spent the last year and a half restoring his Bronco from the ground-up. It has a brand new torque-monster 400 with 9:1 flat top pistons, Comp Cams Hi-Energy cam kit, Edelbrock Intake and a Carter 625 CFM carb. It also has a new transmission, new Track-Lock diff in the rear, and a new drive shaft by Spicer Driveline Tech.
Steve has installed all new carpet, seat covers (original Ford), Grant steering wheel, Borgeson shaft, dash cover, Keenwood tuner & CD player w/amp & 4 speakers, 2.5" exhaust system w/ Flow Master muffler, 4 33" BFG All-Terrain KO tires, brakes & power booster, ignition module, battery, starter, solenoid, cables, max-cool radiator, factory non step chrome rear bumper, fuel pump, MSD coil, 6 RS 6000 shocks (has factory quads up front), polly track arm bushings, and a top-of-the-line green and tan paint job. Steve stressed the fact that everything on this Bronco has been professionally installed.
Steve has sold this Bronco to a couple who is going to use it as daily driver and as a tow vehicle. Who knows? Maybe Steve will buy another 78-79 Bronco one day.
-- Well, who ever you guys are that are the proud new owners of this beauty, I wish you well and I'm sure you'll get many years of good service out of it. (Just go easy on her as she is one of my favorites!)