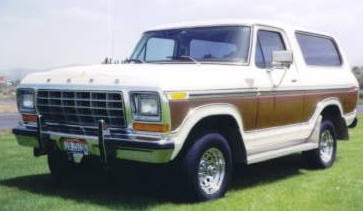 Bill Garren's 1978 Bronco Ranger XLT Trailer Special, Pocatello, Idaho.
Bill's '78 Ford Bronco Trailer Special has been garaged it's whole life and needless to say it shows. It has the
original paint, seats, and 400 engine. The Bronco has just a little over 59,000 miles on it. Factory options include cruise control, tilt steering, A/C, and a factory CB radio! It came with a lot of neat features such as a tow bar so it could be towed behind an RV and multiple receiver hitches, front and back to accommodate an electric wench and motorcycle rack. Bill and his wife bought this Bronco a little over a year ago from a gentleman who bought it straight from the factory. Though it has not seen any off road use, this Bronco is definitely equipped to tackle any kind of rugged terrain. The only modifications made to the Bronco are the dual Flowmaster exhaust and the new 650 CFM Edelbrock carburetor with and Edelbrock Performer intake manifold. All service records have been saved including oil changes, maintenance, and tire rotation. This is a rare beauty.
Bill's Bronco was just featured in LMC Truck's catalog and they have offered to do a complete photo shoot on it in Kansas City. Bill doesn't see that happening any time soon, but you never know how things may work out. Bill has also installed a snow plow he can clear his own drive way in the winter. Needless to say, Bill's neighbors are jealous when they see him out there pushing mounds of snow around. Being the guy that he is, it doesn't take him long before he's plowing their drive ways too. Bill has fallen in love with his Bronco. He wasn't to sure at first about not having a truck with a bed but things seem to be working out.
-- Oh, she's a beauty! A '78 Trailer Special with just 59K on it -- folks, were looking at one of the nicest 2nd-gen Broncos out there.