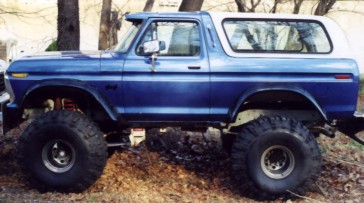 Bob's 1979 Ford Bronco Custom, Gladwyne, Pennsylvania
Bob gives the term "2 big Broncos" a whole new meaning with his pair of gigantic '79 Broncos (See Bob's second Bronco below). Bob's blue Bronco has a 460 engine with MSD 6 T ignition and MSD Vibration coil, Edelbrock 650 CFM carb, Performer intake, and a K&N air filter. The rest of the Bronco is equipped with a Borg Warner T 18 4spd, NP205 transfer case GM 14 Bolt Rear, 9 inches of suspension lift, 3 inches of body lift, adjustable drag link with 4 inch drop pitman arm, custom lengthened drive shafts with one ton universals, auxiliary electric fan, Lund visor, Crown Vic front seats, Skyler soft top 44" TSL Boggers on 15X14 Eaton chrome wheels, Bushwhacker cut out fender flairs, Borgeson steering shaft with US Steering Gear box and

Saginaw pump, custom 2 inch exhaust with Flowmaster mufflers, 12 inch front bumper made of aluminum diamond plate, and Westin 12 inch drop down deluxe rear bumper.

In the near future (summer?) Bob plans to install a King Pin Dana 60 front axle with 5.13 gears and coil spring suspension, D0VE-C heads, headers C 6 transmission, and put the Holley 750 Carb he has sitting in the garage on the 460.
-- Keep reading.........