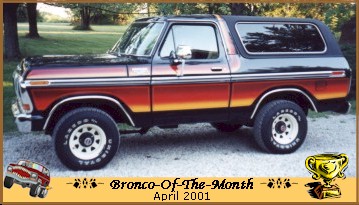 Jonathan Sladek's 1979 Free-Wheel'n Bronco Ranger XLT, Wadsworth, Illinois
You know, sometimes I get emails from 66-77 and 80-96 Bronco owners asking me why on earth I created one of best Broncos sites in existence and it's just for second-generation (78-79) Broncos. Most commonly they ask, "What is so special about these Broncos?". Well, for those of you who just don't understand, it's Broncos like this one owned by Jonathan Sladek that inspired me to create this site. I mean just take a look at this thing, will you? Have you ever seen anything so gorgeous in your life? This Bronco is the perfect example of what I mean by "The Best Broncos Ever Built".
Now, about the truck. Jonathan purchased this Bronco in the fall of 2000 from the original owner on the Canadian side of St. Sue Marie. The Bronco was purchased there new and has been garaged all its life. The Bronco is 100% original (except for the tires) and is in absolute mint condition. There is no rust anywhere, the interior, exterior and drive train are in perfect condition, and it only has 65,000 original kilometers on it (that's about 40,000 miles). Even the doors open and close perfectly and the interior still smells like new. This Bronco is equipped with a 351 engine, C6 tans, no catalytic converter (it's a Canadian truck), Free-Wheel'n package, captain chairs, sport steering, CB radio, 8-track, and a factory GT (roll) bar.
As for Jonathan's future plans for his Bronco, well, other than adding black bumpers and mirrors (just like the Free-Wheel'n Bronco in the '79 dealer brochure), he simply says he's going to enjoy driving it. Wherever he goes people stare at it in amazement.
-- You can add one more person to the list who is staring at it in amazement :-)