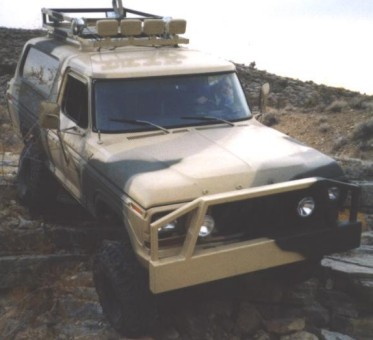 Ryan's 1978 and 1979 Broncos, Las Vegas, Nevada
These are pictures of two of the three 78-79 broncos Ryan has owned in Las Vegas, NV. The gray 79 Bronco stuck in 3 feet of snow was Ryan's first, (the white 79 bronco in the
background pulled him out). Ryan's second 79 Bronco was victim to a high speed crash. The stock white and blue 78 is his third (see pic below) and, believe it or not, is the camouflage monster you see in the pic to the right! Ryan's 78 now has a super custom front bumper made from 4x10 rectangle steel tubing, which will get a custom dual receiver and removable 15000lb winch mounts. The winch will be able to be moved quickly from the front to the rear and vise versa. The Bronco sits on a 6" suspension and 3" body lift with 36" TSL SX tires. It
also has a dual optima batteries (red and yellow top combo).
Ryan's future plans are 2 1/2 ton Rockwell axles, full roll cage attached to the frame, custom frame strengthening, custom nerf bars attached to frame, custom diamond plate rear roof, a 460 fuel injected motor and new gears and lockers. Ryan is only 18 years old now and hopes to be finished by the time he's 90.
-- Man, that's sweet! You'd never know it was the white & blue Bronco before the "transformation".