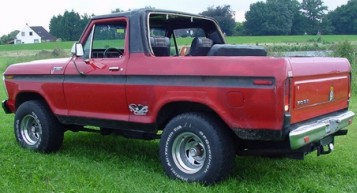 Manco's 1979? Bronco Ranger XLT, Breman, Germany
Manco sent us some pictures of his unique 2nd-generation Bronco from Breman, Germany! Manco says his Bronco has Rancho shocks, 33x12.50 tires and a 351M engine with headers.
Looking at the pics of his Bronco, I'd say there's a little bit more to it than that. A quick look at the interior and a peep under the hood tells us that this Bronco did not come with A/C, yet, it is plainly equipped with captain chairs, a center console, and sports the RXLT simulated wood grain trim. The 351M engine appears to be original, as does the massive super-cool radiator under the hood. The rear of the Bronco looks like it has custom diamond plate cargo panels, tailgate panel and floor board covering.
I know it can't be easy finding parts for this baby in Germany. I sure would like to know the history behind this baby!