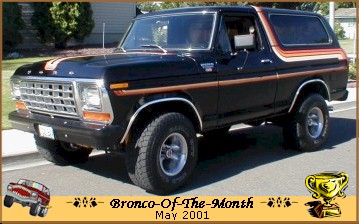 Matt Elgie's 1978 Free-Wheel'n Bronco Ranger XLT, Oak Park, IL.
I don't think I will ever cease to be amazed by the timeless beauty of second-generation Broncos. However, every once in a while you run across one that is so unique that it simply takes your breath away.
Well, Matt's '78 Free-Wheel'n Bronco is one such vehicle. It is, with out a doubt, the perfect example of the "Ultimate 4WD Utility Vehicle". Matt's Bronco has a fresh 460 engine with a Edelbrock Performer 750 carb, MSD billet distributor, Jacobs Pro Street ignition w/ Torquer coil, and full dual exhaust. The Bronco gets all that power to the ground through 4.10 gears front and rear and 32x11.50 Wild Country tires mounted on 15x10 ARE AR-136 alloy wheels.
Matt's truck is real Free-Wheel'n Bronco and features the original black paint and orange stripes, a factory GT sport steering wheel and the factory GT roll bar. The truck's beautiful interior has been enhanced with a Sony ES CDX-860 CD/Tuner Head Unit with Eclipse 6-1/2" Coaxial Speakers and a
AutoMeter Street tachometer.
Matt has plenty of plans for his Bronco in the future, including 33x12.5x15 MT Baja Claw Radials, Flowmaster Deltaflow mufflers, L&L Ultra Flow Headers, 1979 Ford Captain's Chairs, High Back Bucket Seats, Rancho RS9000 shocks, 12" Extended Radius Arms, and big prerunner-style tubular bumpers. You can see a little more about Matt's Bronco at: http://www.superford.org/cgi-bin/sf.cgi?uid=default&vr2=1&ID=1197

-- That's SWEET!