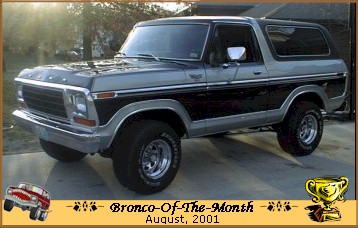 Chris Reynolds 1979 Bronco Ranger XLT, Kansas City, MO
About 3 months ago I took a little personal vacation and paid a visit to some friends I met through this site who live in the Mississippi Delta region. One of the people I met was a fellow named Cliff Brumfield who owns the super low-mileage black '79 Bronco in Showroom #1. We were drooling over the new 2001 winter edition of the LMC Truck catalog and started talking about that beautiful black and silver '79 Bronco on the front cover. Cliff made the remark that it is too nice not to be on "the web site" in one of the showrooms, to which I replied, "well, if who ever owns it sends it in, I'll make it Bronco-of-the-month".
Well, guess what? I'm making good on that promise. Little did we know that as we were looking at it on the front of the catalog, Chris Reynolds was busy getting some photos ready to submit it to ProjectBronco. All I can say is that the LMC truck catalog does not do it justice, it is truly one of the best 2nd-generation Broncos I've ever seen.
Chris purchased his Bronco from a friend who bought it new in 1979. The Bronco was always in good condition, but Chris took the liberty of rebuilding it with a fresh new look, starting with all new factory parts. The fenders, doors, tailgate and quarter panels have all been replaced with factory parts. All of the weather striping has been replaced as well. The Bronco was repainted with the original black and silver color and updated with clear coat finish. The seats were switched from the original bench seat to buckets w/ a center console and then reupholstered in black cloth. All of the chrome is still original.
The original 351M has been replaced with a new remanufactured long block and sports a 650 CFM Holley carb, Weiand intake, Mallory distributor, Mallory Ignition and a Mallory coil. Toping it all off is a new radiator, Headman headers, Dynomax mufflers, Pro Comp shocks and Bridgestone 32x11.50 tires on American Racing rims
Chris' future plans for his Bronco is to add a new soft top by next year!
-- What a beauty! Folks, now that's TLC. Told ya the catalog didn't' do it justice :-)