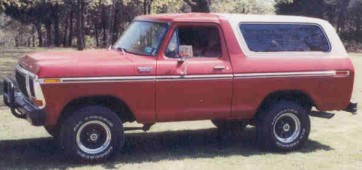 Jeremy Wilkins 1978 Bronco Custom, Oklahoma City, Oklahoma
At first glance, you might think that Jeremy's Bronco is just a plane old '78 Custom, but since he has owned his truck he's turned it in to real street machine! The original engine has been rebuilt .030 over and has a new Edelbrock Performer 1406 carb, Edelbrock intake & cam, Accel cap, rotor & coil, MSD plug wirers, K&N air filter w/ Extreme top, Hooker headers, and dual Flowmaster mufflers! Getting all that power to the ground is a rebuilt C6 with a TCI shift kit & a TCI converter, a rebuilt transfer case, and a Detroit Locker in the rear. The interior features a 100 MPH speedometer, '95 Mustang Cobra bucket seats, a GT steering wheel, and a totally decked out Clarion stereo system.
-- Hey, who needs a "Muscle Car" when you can have a "Muscle Bronco"?