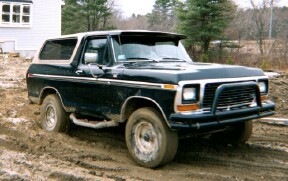 Bill Emilson's 1979 Bronco Ranger XLT, Buzzards Bay, Massachusetts
Bill's Bronco XLT Ranger has a 400 engine, C6 trans, NP205 transfer case, towing package , front and rear stabilizer bars, 32x11.50 15 A/T on 15x8 American Racing Outlaw rims , Grizzly double bend nerf bars, Smittybuilt front tube bumper,
a custom fabricated rear tube bumper, a Lund visor and a kicking kicker sound system pumping out about 1500WATTS!
Bill also has a '78 Bronco that he just picked up for, get this, nothing! He plans on performing a ground-up restoration on the '78.
-- Well, of course there's no grass in the front yard! I own a Bronco, who needs grass?? What? Where's the driveway? What part of B R O N C O don't you understand?