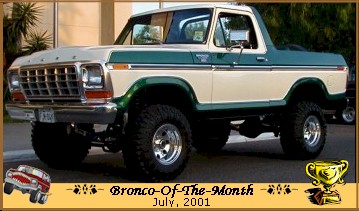 Charlie Solis' 1978 Bronco Custom, Pharr Texas
It's funny sometimes how things seem to happen strictly by coincidence, and two completely unrelated events intertwine to become one major event and a heck of a good time. Well, that's exactly what happened a couple of months ago the very night before I was scheduled to board a plane to McAllen, Texas. I travel to South Texas and Reynosa, Mexico 3 or 4 times every year for business, and just before one of my trips this summer I get an email from a fellow named Charlie Solis in Pharr Texas. I emailed Charlie back, asking him how close Pharr was to McAllen. He quickly responded by telling me that it was about 2 minutes from McAllen, to which I replied that I'll be there in less than 14 hours -- want to hang out? Charlie was kind enough to offer his hospitality to a complete stranger and I spent that Saturday evening with Charlie and his friends at one of their local hang outs, Rudy's Upholstery shop.
Before I go into detail about the gang in South Texas, let me tell you all about Charlie's unbelievable '78 Bronco Custom. He rebuilt his super-clean Bronco from the ground-up. It has a detailed 351M flowing through new custom dual exhaust. The entire Bronco, including the frame & running gear, has been repainted. The suspension features a 3" SkyJacker lift supported by 33" M/T Baja Claw tires. The Bronco's sound system features a CD player, amp and 10" woofers. The interior & exterior has been enhanced with all of the optional Ranger XLT trim. In fact, Charlie did such a good job on the XLT conversion that had he not told me it was it was Custom, I would have never known. Nearly everything on this Bronco has been detailed or replaced. It was almost like taking a step back in time.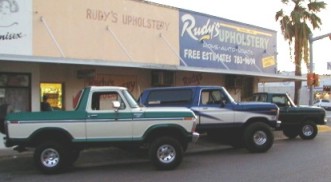 Now, back to Saturday evening. Charlie picked me up in his Bronco and we drove over to Rudy's to hang out with the guys and have some fun. When we arrived I was surprised to see two other super-nice Fords parked at the shop, a BIG '79 Bronco and really sharp 79 F-150 4x4.
Of course, me being the Ford nut I am, I had to look them over. First I looked over the big blue Bronco, which belonged to one of Charlie's friends, Jaime. It had a custom interior installed by Rudy's shop and a tricked-out 460 engine. The rest of the Bronco was completely restored and very finely detailed. Next came the '79 F-150, which belonged to Rudy himself. As might be expected, his truck had a 100% custom cameo-style interior that Rudy hand-stitched himself! He also made a custom "jump seat" in the center that folds up into the bench. The work was excellent and the quality very nice. Rudy then fired up the engine for me, which was a built-to-hilt 400. You could tell by the thunderous sound of that torque monster that it was indeed a VERY stout engine.
Later on in the evening we hopped back in Charlie's Broncos and drove over to one of local "water holes". Basically we just hung out with they guys, had some drinks, and shot a lot of pool until it was time to go home.
So, to sum up the trip, I had a great time with Charlie and his friends. If there's anything you can say about the boys in the Rio Grande Valley area in South Texas, it's that they do indeed lover their Fords and they are very hospitable and friendly folks. And finally, just in case you were wondering, yes, Rudy can make up a custom interior for your truck. Their number is 956-783-9699.
-- My parents just purchased a new pool table, so I'm getting some practice so that the next time I come down you guys wont beat me so bad! :-)