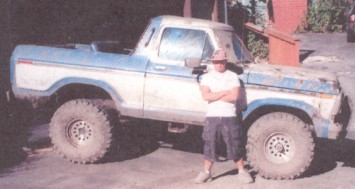 Eric Dyberg's 1978 Bronco Ranger XLT, California.
My Bronco has A 400ci engine with Edelbrock intake, Edelbrock 650 carb and cam, MSD wires, K&N air filter, dual chery bombs, Hella off-road lights, Conifer roof rack, dual Hella horns, CB radio, pioneer CD player with Sony Expolds speakers, new alternator ,starter, power steering, optima red top, 36" tsl's on 15x10 outlaws, 9" in rear 44 front, stock gears, C6 and NP205, a new drive shaft (I have lead foot), Warn hubs, 4" Superlift with 2" body lift, dual Rancho 5000s in front and two in back I live in the California

mountains by Big Bear where there is mud rocks and hills, love mudding through the lake by my house and climbing those hills, not a rock crawler because it needs gears to do that and too much damage. Future plans include a nitrous kit, Detroit in back and posi in front, bigger meats, gears and winch.