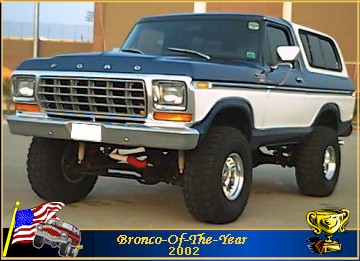 Bronco of the year for 2002

Benji Arslanovski's 1978 Bronco Ranger XLT Trailer Special, Fort Worth, Texas
2002's Bronco of the year goes to Benji's totally resorted '78 RXLT Trailer special. Benji is one of ProjectBronco's "Team PJB" members and has been instrumental in keeping this website running smooth. He was instrumental in organizing this year's PJB Club meet in Bloomsburg, PA and was kind enough to donate his time and donate lots of food for the Pennsylvania club meet, as well as handling the hotel reservations for PJB Club Members.
Benji's Bronco started it's adventure just two years ago as a worn out brown and white Bronco. Since that time he has literally completely restored his Bronco from the ground up, transforming it into one of the nicest 2nd-genration Broncos around. The Bronco features a beautiful new blue & white tu-tone paint job, a brand new blue RXLT interior that features an Alpine CD player & Amp, with six speakers, a Cobra CB, new carpet, seats, and paint. The engine is a professionally built 408M with a Crane 272 Cam, Crane roller Rockers, Springs, and Lifters, Edelbrock 1406 Carb and Manifold, Edelbrock HV Water Pump, Holley fuel pump, MSD Ignition, Mallory Dist.,4 core rad., and 2.5"dual exhaust with FlowMaster mufflers. The suspension features a 4" Superlift suspension lift, Superlift Shocks, Mickey Thompson wheels and Pro Comp X-Terrain Tires. The NP205 transfer case and C6 transmission have both been rebuilt. The entire electrical system in the Bronco has been redone.
Benji was still in the process of restoring his Bronco by the time the 2002 PJB Club meet rolled around in July, but despite it not quite being finished and despite having a brand new engine under the hood that had not yet been fully broken in, Benji still drove it FOR 24 HOURS STRAIGHT from Fort Worth Texas to Bloomsburg Pennsylvania to attend the jamboree. Of course, the Bronco made the 24 hour marathon w/o a hitch.