---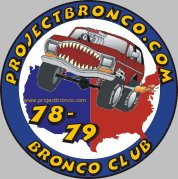 (Remember -- Members get a 10% discount on all merchandise!)
Index:
Click below to order.
The ProjectBronco.COM Club Membership Package comes free with every new member that joins the club. It contains the following merchandise:

One PJB Club T-Shirt (specify size when ordering; M, L, XL, or 2XL)
One PJB 5 3/8" Magnet
Two PJB Club decals
Ten PJB Club Business Cards

Price: $50.00 US & $20.00/Year renewal -- Free Shipping USA & CAN

(Comes w/ membership) Click the PayPal button to subscribe!
---
The ProjectBronco.COM Club T-Shirts are top-quality, 100% heavy-weight cotton shirts by Gildan ActiveWear. Each shirt features a full-color 3 1/2" club logo on the left breast and a full-color, 12" club logo on the back. They are currently available in four sizes, including size M, L, XL, & 2XL.

Price Each: $19.00 US -- Free Shipping USA. CAN add $5.00

( Members receive a 10% discount) Click here to order
---
The ProjectBronco.COM Club Magnets are today's answer to the bumper sticker. These magnets are nearly 6" in diameter, made of 30 mill vinyl and are designed specially for out-door use. Will not fade or harm your paint job in any way.

Price Each: $12.00 US -- Free Shipping USA. CAN add $2.00

( Members receive a 10% discount) Click here to order
---
The ProjectBronco.COM Club Decals are made of top-quality, 100% vinyl material. They are specifically designed for out-door use and will not fade over time. They are "out-side decals" measuring just 3 1/2" so you can put them on your tinted windows or even stick one on your bumper.

Price Each: $3.50 US -- Free Shipping USA. CAN add $1.00

(Members receive a 10% discount) Click here to order
---
The ProjectBronco.COM Club Business Cards are your ticket to meeting Bronco owners in your area. They are professionally printed and feature a place for your name, phone number, and e-mail address. Shipped in a package of 10 cards. Leave one on the windshield of another Bronco the next time you see one!

Price PKG of 10: FREE to PJB Club Members
---