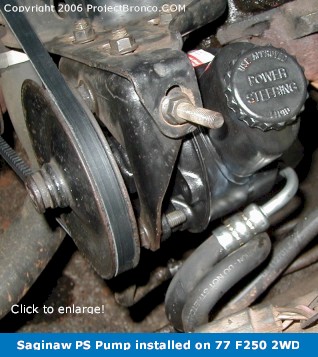 An old workhorse gets a taste of high tech steering
Introduction
As Ford truck owners, we've all been there at one time or another; putting up with noisy, leaky, and less than adequate power steering pumps, especially when upgrading to large tires. The standard Ford power steering pump, in all it's varieties, has remained basically unchanged throughout the '70s, '80s, and well into the 1990s. It was adequate at providing power assist to most Ford vehicles, but when compared to the General Motors Saginaw power steering pump, it falls flat on it's face.
Thanks to Cardone Industries, there is now a bolt-in Saginaw power steering pump available to nearly all 73-79 Ford trucks and most other Ford vehicles using the same style pump. The Cardone 20-6244 is a new, specially designed retrofit Saginaw pump for Ford vehicles, and has been dubbed "The Holy Grail" of Ford retrofit power steering pump options.
This article will attempt to walk you though the installation of this pump using one of the author's personal vehicles, a 1977 Ford F-250 2WD. Although this installation was done on a 2WD, the procedure is essentially the same for all 73-79 Ford trucks, with some exceptions that will be covered later in the article.
Where to Buy
Any auto parts store that is a dealer of A1/Cardone products should be able to order this pump. Be aware that the prices places charge for this pump are all over the board, so be sure to shop around before making your purchase. Prices can range from seventy
dollars to several hundred dollars. I purchased my pump from O'Reilly's Auto Parts for $85.00 plus a $40.00 core charge. Be sure to explain to your parts professional that this is a non application-specific pump and that you will be returning a standard core. O'Reilly's was able to order my pump "next day" and I picked it up in the morning.
About the 20-6244
The Saginaw power steering pump, used primarily by General Motors and more recently by Daimler Chrysler, is a very heavy-duty and silent pump that is a tried and true workhorse. It is so well designed that it is still in use today in many OEM vehicles and even in marine inboard/outboard applications. The new retrofit Saginaw pump from Cardone has three key features that allows it to bolt in place of almost any standard Ford power steering pump.
Bracket Adapter - A special cast iron adapter is bolted to the front of this pump that is drilled to accept the standard Ford pump bracket.
Turned-down shaft -- The standard Saginaw pump shaft has been turned down to accept standard Ford pulleys.
PS Hose adapter - A special adapter has been fitted to back of the pump housing that accepts the late style "floating" Ford power steering hose. Note that most 78 & older Ford trucks will need to be converted to the '79-up style hose as prerequisite for installing this pump. (see below).
Power Steering Hose Buyer's Guide
If you are fortunate enough to be working with a 1979 or later Ford truck, then chances are you already have the correct hose installed on your vehicle and you can move on to next section, "Installation Guide". However, many 1978 trucks and Broncos and all 1977 and prior trucks used one of two older styles of power steering hose fittings. Beginning in 1979, Ford switched to a floating "O" ring design. If your truck has the older style PS hose fitting, then you will need to upgrade to the '79 hose before you can install the new Saginaw pump. Chances are the PS hose needs to be replaced anyway on any vehicle of this age, so it's good insurance to replace the hose anyway, even if you already have the correct hose on your truck.
1978-1979 Bronco - The correct hose to use for the 78-79 full-size Bronco is Power Craft 71037 or Napa NPS71488
1973-1979 F-100 & F-150 4x4 - Same hose as 79 Bronco.
1973-1979 F100, F150, F250 & F350 2WD - The correct hose to use for all 73-79 2WD trucks is Power Craft